Moderators: December, Bronze Haired Girl, una
Jump Starting Bella's Truck
Posts: 141
Joined: Sat Oct 04, 2008 11:00 pm
I think that Riley didn't really have much of a choice.
He was confused and needed someone to lean on... VICTORIA
just happened to be someone who could help him. She lied to him to convince him to help him and he believed her.. Who wouldn't if they were a crazed newborn who didn't have any idea whats going on gets help from someone and that person tells them they love them. It wouldn't be so hard to believe after all the help that they provided to believe that they loved you. I feel bad for him, his situation is kind of likes Jasper's. Riley probably thought that this was how every vampires life is.... He wasn't doing all the things that he did because he wanted to it was kind of like he was brainwashed. Victoria made him do it and I guess he cared a lot for her so he didn't care what happened as long as he and Victoria were together. I felt really bad for him he could have been a nice addition to the Cullen family if he had surrendered........
Helping Mike to Get a Clue
Posts: 504
Joined: Wed Sep 10, 2008 3:45 am
Location: Australia! =D
Is it a problem if I'm not bothered by people's fingers falling off, even when they show it graphically in a "work safety' ad?
has anyone here written any Riley fanfic? I want to but I cant think of any ideas.
And I'm rarely motivated to write anything.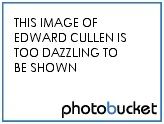 If they say it's tourist season why can't we shoot them?
Hanging Up on Jessica
Posts: 630
Joined: Tue Nov 04, 2008 8:15 pm
Location: Surrey BC
bite_me wrote:Is it a problem if I'm not bothered by people's fingers falling off, even when they show it graphically in a "work safety' ad?
Nope. The provincial government here has a lovely website set up for work safety with really gory images. it just means you have a strong stomach.
I think Riley would have been a responsible vampire if that monster Victoria was not the one turn him.
Settled in Forks
Posts: 17
Joined: Wed Jan 21, 2009 9:04 pm
Contact:
poor riley, mean old Victoria had to go and make him evil. He seems like he would be a really nice guy, for a while i thought he was going to turn good, it would have been awesome if he had just turned on Vick and helped Edward defeat him, but i cant see him joining the Cullens.
Bella is so lucky, everyone in her world is hot...everyone in mine has pimples.
Hiding Lauren's Hair Dye
Posts: 423
Joined: Sun Apr 19, 2009 7:20 pm
i felt sooooo bad for the poor guy!! evil victoria playing him like that! just not fair!! i know he's a bad guy but i think he deserved some respect. i mean even edward almost let him have a second chance. and can i just say that Xavier, the actor who plays Riley in Eclipse, is kinda cute??
Betting on Alice.
Jump Starting Bella's Truck
Posts: 187
Joined: Wed Dec 03, 2008 5:48 am
Location: London
Contact:
Hiding Lauren's Hair Dye
Posts: 496
Joined: Tue Jun 09, 2009 9:26 am
Location: the rez.
Contact: