Moderators: bac, cullengirl, una
Officially Bitten!
Posts: 1531
Joined: Tue Dec 08, 2009 10:06 am
dvd: Circle of Eight. Low budget movie although the concept was cool
Banner by TammyAZ
Frozen in Time
Posts: 1737
Joined: Tue Nov 25, 2008 9:54 pm
Location: watching Friends :)
Contact:
Little Miss Sunshine... again
TM~Maria Dina Corozzo
Teams:Alice, Emmett, Esme, Renesmee, Volturi~Athenodora, JCA~Aubrey Santi~SC
Taking Nature Lessons from Jacob
Posts: 18807
Joined: Fri Dec 12, 2008 3:04 pm
Location: Where I always have been. The other side.
Contact:
The Power Puff Girls Movie.
just as cute as i remembered.
Gamzee is best troll; Dr.Facilier is best Disney villain, Dimitri is best Cooper gang member. They all are associated with purple. That is awesome.
Only Angels Have Wings is one of the reasons Howard Hawks is my favorite director of all. There's nothing fancy or artsy about this one, just a quintessential Hawks film. You start with a band of men in some desperate situation--try a group of pilots for a mail service, making deliveries over the Andes back when aviation was much more dangerous than today. Geoff Carter (Cary Grant) is the hard-boiled boss pilot. One day, the banana boat stops and off steps Bonnie Lee (Jean Arthur), who of course is the Hawks heroine--a woman who can fit in with the all-male band, give as good as she gets, but still retain her feminine appeal. Hawks tells a terrific story, and gives us plenty of terrific scenes. Arthur doesn't take to her role quite as deftly as Lauren Bacall did a few years later in To Have and Have Not (another Hawks classic), but she's pretty good. Grant, meanwhile, is terrific in his first major non-comic role, and Thomas Mitchell is equally terrific as an older pilot, paradoxically known as "the Kid," who is Geoff's best friend. I have this one on the "must be seen" list.
"May the hinges of friendship never rust, nor the wings of love lose a feather"--Scottish blessing
Protector of Jacob's Honor
Posts: 4087
Joined: Mon Sep 22, 2008 2:09 pm
Location: hoping 2012 is better than 2011 was
theater: How To Train Your Dragon. Such a cute movie! I loved it. I want to go see it again.

dvd: Princess and the Frog. It was really cute. I enjoyed it more than I thought I would.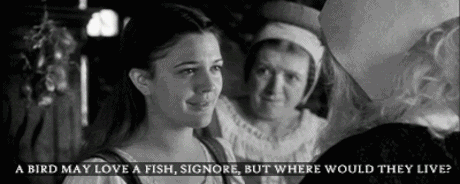 "She doesn't know what she wants" - Jacob Black "Yeah she does!" - Rob Pattinson
If you're going to watch Dead Men Don't Wear Plaid, it helps a lot to be a fan of 1940s film noir. That's because the film is essentially one big gimmick. The ostensible plot involves PI Rigby Reardon (Steve Martin) being hired by Juliet Forrest (Rachel Ward) to investigate the apparent death of her father. However, that's just a frame--the real point of the film is to use clever editing and writing to insert Martin into scenes where he appears to interact with over a dozen big names from the 40s, including Humphrey Bogart, James Cagney, Ava Gardner, Alan Ladd, Veronica Lake, Burt Lancaster and Lana Turner. It isn't too bad but the novelty value wears off after a while.
"May the hinges of friendship never rust, nor the wings of love lose a feather"--Scottish blessing
Love Actually is not a movie for everyone--if you sit around thinking "there are just too many movies that have happy endings," don't watch this one. For the rest, it's a British romantic comedy that reunites the often-successful Richard Curtis-Hugh Grant alliance that has given us films like Four Weddings and a Funeral and Notting Hill (both written by Curtis and starring Grant). In this one, Curtis takes on directing as well as writing and gives us a romantic hyperlink movie, with about 10 separate plotlines, almost all of which have happy, fluffy endings. Naturally, viewers will find some storylines more appealing than others. My favorites included 1) the story of newlyweds Peter and Juliet (Chiwetel Ejoifor and a radiant Keira Knightley) and Peter's friend Mark (Andrew Lincoln), 2) that involving novelist Jamie (Colin Firth) and his Portuguese housekeeper Aurelia (Lucia Moniz), and 3) the one of the new PM (Grant) and Natalie (Martine McCutcheon), a staffer at Number 10, Downing Street. While the Grant-Curtis team has done better films, this is quite enjoyable.
"May the hinges of friendship never rust, nor the wings of love lose a feather"--Scottish blessing
Officially Bitten!
Posts: 1531
Joined: Tue Dec 08, 2009 10:06 am
dvd: Daybreakers with Ethan Hawke. 7/10 rating
Banner by TammyAZ
I'm A Proud Twilight Guy
Posts: 121
Joined: Thu Apr 08, 2010 2:25 am
Iron Man 2: Inferior to the first one but still fun movie with great suprises that leads to 2012's Avengers.
Hiding Lauren's Hair Dye
Posts: 447
Joined: Tue May 05, 2009 5:47 am
Location: Leicester, UK
Love Actually
- I really like that film. Its nice to watch a film with a happy ending sometimes and this has plenty. Very moving at times too with some great comedy moments. Can watch this time and time again...
Troy
was the last film I saw on DVD. Really got into it which surprised me as im not usually into these type of films. Interesting story line. The fact there are some tasty men with not much clothing on helped haha
"And so the lion fell in love with the lamb" "...What shoes had Alice put me in? Stilettos? She'd lost her mind..."