Moderators: December, bac, Bronze Haired Girl, cullengirl
Tell us which is your favorite book in the Twilight series and why
Eclispe is my favorite because you really start to see a change in how Edward is with protecting Bella so much. And then there's the part where Rosalie explains to Bella about why she doesn't want her to become a vampire. I thought it was really needed since her and Bella have such a distant relationship within the family. Then when it gets to the part were the newborns are coming to kill Bella, finally Jasper gets to tell his story as to how he was before Alice and the Cullens and why it's so hard for him to adjust to their lifestyle.

I felt bad for Edward when they where in the tent and he couldnt hold Bella because his skin is naturally cold. For him to see the person he loves the most suffer really made me emotional. But i was glad that Jacob was there to warm her and him "screaming" his thoughts to Edward about him and Bella was funny.

Over all it was the best book to me in the saga. And for some reason when i read the end where Jacob turns into a werewolf and leaves, Fly Away by Lenny Kravitz plays in my head. They should use that when they get to the third movie in the end. It fits so perfect.
Jump Starting Bella's Truck
Posts: 127
Joined: Fri Oct 31, 2008 12:10 pm
Location: frolicing through the unicorn forest that is RPattz's hair
AH!
Extremely
hard to choose, before BD came out my favorite was always Eclipse, and then once I read Breaking Dawn it immediately became my favorite. But after rereading New Moon again, it definitely became higher up on my list. But I think if I had to choose, it would be Breaking Dawn for sure.

Team

Edward

,

Emmett

,

Alice

,

Jacob

,

Garrett

,

Jasper

,

Seth

,

Bella

,

Charlie

, and

Renesmee

<3
"And by the way I adore you..in frightening, dangerous ways" - Edward Cullen, Midnight Sun
Buying a Better Raincoat
Posts: 50
Joined: Sun Dec 28, 2008 7:31 pm
Ahh, I love them all for such different reasons. Its like choosing between children.

I guess that my favorite is Eclipse. I feel like the relationship between Bella and Edward changes during the book in a way that really makes me happy. I don't know if I can explain this well, but I feel like Edward finally takes Bella seriously and admits that he is as much a part of her as she is of him. Hmmm. Does that make sense? An example would be when he compromises about where he will be during the fight with the newborns - I appreciated that he was able to say to her, "you gave me the options you could live with, and I am giving you the one I can live with." To me, this just shows growth in their relationship. Although I wish Bella wouldn't have felt guilty about it, but she is a teenager...

There are also so many parts of that book I love - graduation, the "kidnapping", the tent "dream", obviously the proposal, etc...

Although I hated Jacob at the end of this book, even though I felt bad for him, too. I was almost glad that he ran away, except for the fact that I knew it would make Bella upset. I guess that I probably was in Edward's shoes in terms of my feelings for Jacob by the end of Eclipse. I loved him in New Moon, and I totally appreciated his book in Breaking Dawn, and I love him now, but when I was done with Eclipse, I just wanted to slap him.

Anyway, I think that Eclipse is the book I would choose if I could only read one from the series.
Don't compromise yourself. You are all that you've got. - Janis Joplin
Officially Bitten!
Posts: 1520
Joined: Wed Aug 13, 2008 10:44 pm
Location: Earth
Contact:
My #1 Fave of the saga would be New Moon..Honestly, I'm not that big of a fan of the Bella and Edward relationship for reasons that I won't discuss on this thread for fear of being attached with pitchforks and torches from the B & E fans. I like NM because of Jacob's character development and such.

I love all the books from the saga of course, but NM is number 1 for me.
My favourite book of the saga is New Moon. As far as Team Jacob, Team Edward things go, I'm pretty much Team Switzerland (although I may lean slightly towards Edward because I prefer vampires to shape shifters), so I'm not really sure why it's my favourite... I think it's because it's so powerful and it presents a revelation in Bella and Edward's relationship because we see how they really can't live without eachother. It also shows the development of Jacob's character and I find Jacob hilarious, if slightly irritating (although, so is Edward with his extreme overprotectiveness- please don't burn me at the stake for saying that
). Also, Alice is in it more and she's pretty damn cool. And so are the Volturi. So, yes, I think the reason I prefer New Moon is because of the new characters it presents and the expansion of some of the smaller characters from Twilight. Also, it has less clichés.
Sorry for the extremely bad review and broken up reasoning- I hope you understood the main point of what I was saying. I can't think straight right now.
You wanted me to be human, I reminded him. Well, watch me.
You know...I would like to say that my favorite book was not the one with the "corny" endings, but it is. Breaking Dawn made me so happy throughout the whole book and I loved every moment of it. It seems to be the book that was written most for Edward and Bella fans in my opinion. I loved Twilight because of Edward and Bella, but I was sad through most of NM (And I had to reread it later per request of SM herself!), but Eclipse healed the wounds. BD was the icing on the cake and I couldn't have wished for a better ending. I actually put the book down and said "I don't think that could have ended in any other way." Sure there were some loose ends. Sure I wasn't 100% thrilled about some of the things that happen, but what book
doesn't
have those moments? That just means there is room for more writing
Lusting for Blood
Posts: 1362
Joined: Thu Jan 01, 2009 12:21 pm
Location: England
1. Breaking Dawn
2. Twilight
3. New Moon
4. Eclipse
Edward,
Eммεтт,
Jasper,
Seth,
Ian,
Jared

,
Dιмιтrι,
Mason,
Peeta,
Rhage,
Heath

,
Erik,
Stark,
Dαмεη
...Boys in

books

are just
вεттεя
♥
Completely Dazzled!
Posts: 1440
Joined: Sun Aug 24, 2008 5:43 am
Location: Australia, of course
For me..I believe Twilight is my favourite.
I think it is because it is the first look at the world and we are introduced to the supernatural world and it is where it all began.
This is where people first connected with Bella (or not..) and it is the book that made us want to read the rest.
To me, it is the most powerful.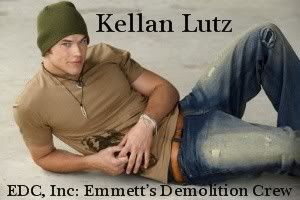 ::Elise:: Backhoe Operator for EDC, Inc~EDC's Cheer Squad Captain!
I'm on the List~The names Mooner
Settled in Forks
Posts: 18
Joined: Fri Jan 02, 2009 2:11 pm
Location: In Edwards Arms.
Really all four. But I know that's not an option.

If i had to choose i guess I'd choose.... Twilight or Breaking Dawn.

It's kind of the begining and the end of it all. Besides the fact that they are the funniest books and that the romance is best in those two i really don't have another reason. I just love those two books to death.
Oh My Cullen!(c)