Moderators: December, bac, Bronze Haired Girl, cullengirl
Jump Starting Bella's Truck
Posts: 166
Joined: Tue Dec 23, 2008 2:32 pm
Location: Riding motocycles with Jacob........Cliff diving with Jacob, Embry, Quil, and Sam
Contact:
That's a good book too.
Then they went to war.
Then Jacob got hurt trying to save Leah
I got my werewolf boy.
Acquiring a Taste for Mountain Lion
Posts: 2067
Joined: Sun Jan 25, 2009 7:58 pm
Location: In the gutter with my guttermate Yoda.
Contact:
Well, I really really like all the books. But I think New Moon but mostly because of Bella's Epiphany it's just such a great moment. Also, Edward describing his life before, during, and after life with Bella. It's just so beautifully described. However, I loved hearing Jasper's story in Eclipse. Me has a soft spot for Jasper (I love him too).
http://chelseadawn.webs.com/
Banner by Kimmy. Avatar made by Narnia

Banner by threethings
Settled in Forks
Posts: 11
Joined: Tue Jan 20, 2009 9:28 pm
My favorite book is Eclipse. I like it because Bella and Edward discover so much more about where their relationship is going. Bella is a human girl that has wants and needs. Although Jacob does kind of make me mad in the book. I guess it is possible to love two guys at once. I just don't like how she is constantly leading Jacob on. My favorite part in Eclipse is hearing Rosalie and Jasper's stories. It gives the story a whole new dimension and helps you truly understand both their characters.
Making beautiful music with Edward as only I can
Posts: 5119
Joined: Mon Dec 08, 2008 9:25 am
Location: Rob's HalfwayHouse, shacked up with some FicWard.
I honestly have to say that I view Twilight almost like The Lord of the Rings. It is one long story broken up into separate sequences. The action in Eclipse, for instance, is so driven by what happens in Twilight. But, if I had to create an order of preference, it would be as follows:
4) New Moon- Not that I like it the least, it just broke my heart the most. It is the toughest one to reread.
3) Breaking Dawn- Again, only because it broke my heart the second most by ending my favorite story.
2) Twilight
1) Eclipse- The emotional journey that Edward and Bella take in this novel is just breathtaking. Plus, we get to know more about Jasper and Alice.

And, of course, if we were able to include Dark High Noon, that would take the # 1 spot without any argument, fuss or fight.
"Directing 7 Cullens at once=herding cats" :ROTFLMAO:
C-Dubs is TwitterRoyalty


Turning Page is Gospel~Ashley=MiniMe~HHBS
I have to say that I"m caught in the middle between "Twilight" and "Breaking Dawn". I loved them both, I enjoyed the innocence between Bella/Edward in "Twilight" and definitely loved the "sinful deeds" (ha) in BD.

I was so happy for Bella!
Has Caught Sight of Edward
Posts: 1083
Joined: Thu Jan 22, 2009 10:37 pm
Location: Aotearoa/New Zealand!
New Moon cos it's Jacob's book
But I loved Twilight and Eclipse as well.
Breaking Dawn, on the other hand...


Team Jacethper! (Jacob, Seth and Jasper) Now, to fit Leah in there...





Thanks Cocoa for the banner
Jump Starting Bella's Truck
Posts: 166
Joined: Tue Dec 23, 2008 2:32 pm
Location: Riding motocycles with Jacob........Cliff diving with Jacob, Embry, Quil, and Sam
Contact:
I love Eclpise because you get to kno all about how Jasper got turned into a vampire.....Then how the wolves and vampres got to work together...thats was so wanderful....It was awesome how they found out that it was Victoria who took Bella's things...Then how they went to war....That was so
.....But that was what it had to be to save Bella from the new born vampires.....It was so bloody brilliantly written
I got my werewolf boy.
I'm A Proud Twilight Guy
Posts: 19
Joined: Sat Jan 10, 2009 10:04 am
Location: A Godforsaken smalltown in Sweden
navarre wrote:
By the way, has anyone put these books down for a while and then come back to them? I actually walked away for a month and now because I can not resist their 'siren call', I have picked up Twilight for the 14th, yes, 14th time.

If you have done this, how long did you go without reading them again and was it hard to stay away?

I'm curious.
Well, i've been away from the books for 3 weeks now, but i don't know how much longer i can stay away from them. Keeps getting harder and harder every day.
I'll probably start reading Twilight again this coming weekend.
But i haven't read the books as many times as you have.
As for my Favorite book of the saga. It's difficult to pick a favorite, they're all fantastic books.
But if i have to choose i'd say Twilight, because that's where the whole story of Edward and bella begins.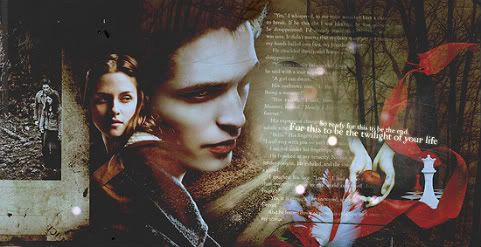 It sounded like you were having Bella for lunch, and we came to see if you would share.
Alice Cullen, Twilight, Chapter 16, p.346
Has Caught Sight of Edward
Posts: 1067
Joined: Tue Jan 27, 2009 10:51 pm
Location: Moses Lake, Washington
Contact:
jettabugfox wrote:Ahh, I love them all for such different reasons. Its like choosing between children.

I guess that my favorite is Eclipse. I feel like the relationship between Bella and Edward changes during the book in a way that really makes me happy. I don't know if I can explain this well, but I feel like Edward finally takes Bella seriously and admits that he is as much a part of her as she is of him. Hmmm. Does that make sense? An example would be when he compromises about where he will be during the fight with the newborns - I appreciated that he was able to say to her, "you gave me the options you could live with, and I am giving you the one I can live with." To me, this just shows growth in their relationship. Although I wish Bella wouldn't have felt guilty about it, but she is a teenager...
You know, I was going to immediately say it was a toss up between Twilight and Breaking Dawn. There is so much I adore about both books -- Edward and Bella meeting and developing their relationship and the foundation of everything that is to come. Then in Breaking Dawn they marry, Bella becomes a vamp, and they have their happily ever after.
But something happened.
I read your post and I was trying to see how Eclipse could've been enjoyable because I detested the fact that Bella kissed Jacob and we all know he screamed that moment to Edward to relive over and over again. And I found myself internally screaming at Bella about how she didn't deserve Edward because of how he gracefully handled things and gave her the out. And then I came to the quote you used to describe why you liked Eclipse and I realized ... damn, that is the crux of the whole thing. Edward evolved in Eclipse. He evolved into this person who, with as much as he loved Bella enough (and yes, he loved her enough to leave her the first time) to see her happiness put before his own. He was willing to step out and allow her to be with Jacob if that was what she wanted. He was willing to step away from fighting with his family to be with Bella because he knew how upset she was to not have him beside her.
I was really annoyed with Bella for acting every inch the teenager through that whole section. First the I go or you stay demand, using the guilt-trip of him leaving her before. To whining on his shoulder because she kissed Jacob and suddenly realized she loved him. *rolls eyes* I still don't buy that bit for a minute, but that's beside the point.
I honestly want to say Eclipse might've just moved up higher in my opinion because of that quote you used. Thank you!
"And if you ever kiss her again, I
will
break your jaw for her," he promised.

Team Edward, Alice and Cullen! Swoonist. Mrs.Edward_Cullen<3's brain twin!
Settled in Forks
Posts: 5
Joined: Fri Jan 09, 2009 10:19 pm
When I first read the Twilight series Twilight was my all time favorite and New Moon was my least favortie (untill Breaking Dawn, the BD became my least favorite) But after I read the series again I really liked New Moon and it is now my favorite out of the series. I really began to like Jacob and I feel in love with his personaltiy. So yeah my favortie book out of the series would be New Moon.