Moderators: December, Bronze Haired Girl, una
Completely Dazzled!
Posts: 1473
Joined: Tue Nov 04, 2008 12:48 am
Location: Southern California
Could you imagine reading something from Jasper's perspective? I'd like to hear how his gift actually feels to him. And really I'd just love to get inside his head! Le sigh.
stage directions
[enter malaz]

"JASPER RULES!"
[exit]
Cliff Diving with Embry
Posts: 3236
Joined: Fri Oct 17, 2008 9:51 am
Location: Somewhere in Vegas having and argument with Riley Reynolds.
Contact:
maybe getting inside jasper's emotion will be bittersweet..
good because you'll get inside him..
bad.. you'll feel how bad he feels about himself having a hard time controlling the urge of drinking blood..
plus all other negative emotions that he can absorb all around him
*sigh*
good thing alice is always there to make him feel good
Team J.Action
Twinnie:TillyWhitlock


A PROUD RANDIE and LEXLING


I Speak My Mindand i tweet too!
Lusting for Blood
Posts: 1370
Joined: Wed Dec 03, 2008 1:09 pm
Location: Trying to replace Annabelle
I think it would be very interesting to get into Jasper's head and know what he is thinking and feeling. I especially would have loved to when Bella was a newborn and Jasper was all confused. I guess we get a little peek but not enough. It would be cool to see how he deals with knowing everyone's emotions.
"Forged in war, born of death, saved by love." -Jackson Rathbone on Jasper Hale
Twilight Mafia- Roxy Bengaza
Getting Inside Jasper's Head...

I would absolutely love to read something from Jasper's perspective. He's one of the characters that I feel we just don't get enough time with throughout the saga.

Though Jasper can't hear other people's thoughts, he can sense their moods. For example, in BD when Charlie is on his way over, he is visibly frustrated that Bella can't seem to focus because she keeps getting ahem.. distracted by Edward. He is also on edge in several instances while Bella is a newborn and around Nessie, Jake, etc. I'm sure that much like Edward, there are times when his ability gets under his skin. I would love learning more about what he must think and feel when people are in great moods, bad, etc.

I would also love to be able to understand the internal conflict that's always taking place for Jasper. I think that he has the most interesting past of all the characters, but we also know that his past is what causes him to struggle with his new 'vegetarian' lifestyle. I think that, in a sense, Jasper is almost as tortured a character as Edward in that it's always in the back of his mind that he may slip up and harm someone.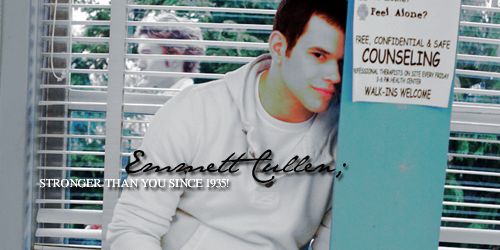 Wrecking Ball Trainee of the EDC, Inc.
Emmet loves blondes!
Randomness Regular
Settled in Forks
Posts: 20
Joined: Wed Nov 26, 2008 1:24 am
We all agree that it would be interesting to get inside Jasper's head and feel how strong his thirst- his urges, his temptations, his emotions are. It would of been really cool to get inside a newborn's head to feel that all that want is blood, and we would have gotten this- but Bella happens to a perfect vampire (which is the biggest COP-OUT, and would've saved the book!)


Also:

Stephanie needs to write a book through Jasper's POV. It tell the story of his past, and his preseant life. He is such an amazing character with so much inner conflict. Since "Breaking Dawn" didn't give us anything really about Bella as a true, thirsty vampire- let's move on to Jasper. It's so cool he can feel others' emotions and the fact that he was a true vampire at one point, and now struggles everyday with his vegetarianism. It would one of the BEST BOOKS! It could be called "Southern Midnight" or "Southern Sunset" ...?

Learning to Love Green
Posts: 95
Joined: Tue Oct 28, 2008 10:53 am
Location: In my happy place...
It would definitely be a great book, if Stephanie writes through Jasper's POV.
We would finally get so see what it's like to be a real vampire, how does it feel to be in a constant pain struggling with what you are meant to be, what you've been created to do. Jasper's life before he joined the Cullens isn't told in great detail in the Twilight Saga but the little that Jasper showes us makes it looks so interesting and worth reading. And his love story with Alice would be almost as amazing as Bella and Edward's. It would be great to read how he felt when he finally met her, finally found hope.
Last edited by
velvet_voice
on Sat Dec 06, 2008 6:47 pm, edited 1 time in total.
"Alice!" Jasper's voice whipped, and then he was right behind her, his hands curling over hers.
She turned her face away from me, into his chest.
E<3B
Learning to Love Green
Posts: 95
Joined: Tue Oct 28, 2008 10:53 am
Location: In my happy place...
Double Post
"Alice!" Jasper's voice whipped, and then he was right behind her, his hands curling over hers.
She turned her face away from me, into his chest.
E<3B
Completely Dazzled!
Posts: 1440
Joined: Sun Aug 24, 2008 5:43 am
Location: Australia, of course
Wow! I'm just imaging a book from Jasper's POV..That would be an amazing book to read. It would be filled with inner turmoil, struggle, temptations and his love for Alice and his connection with all the family. it would be amazing because Jasper is such a deep character with such a strong back story..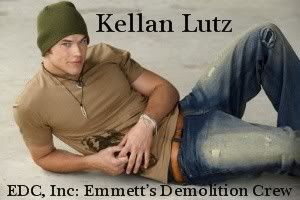 ::Elise:: Backhoe Operator for EDC, Inc~EDC's Cheer Squad Captain!
I'm on the List~The names Mooner
Jump Starting Bella's Truck
Posts: 119
Joined: Fri Aug 15, 2008 5:01 pm
Location: Salt Lake City, Utah
Contact:
It would be great if we could get a book from Jaspers P.O.V. but i just think that it would be really sad in some parts but very happy in others. LIke we would get a detailed perspective of all that he went through while he was in the war and while he was down south with the vampire armies. And it would be really happy cuz we would know how he met alice in that diner and we would hear about how he falls in love with bella. but then we would get the sadness of him trying to cope with the new "diet" and we would also hear about how he always feels everybodys emotions. but then we would read about how he fits in with the family and how he's always betting with emmett.

I would love a book in Jaspers P.O.V. there would be so much drama and stuff but in the end all of the sadness and tears that we would shed during the book it would totally be worth it, just to be able to get in Jaspers head.
What a lucky duck! Wish he'd give me a hickey!
"LIfe sucks, and then you die." Jacob Black
Sponser of DBJ & Co. Donating Blood To Jasper & Co.