Moderators: bac, cullengirl, una, Nena
Settled in Forks
Posts: 12
Joined: Fri Aug 15, 2008 9:06 am
i have two dogs(jack and casey)
and two rats who i luuuuv (thier names are Rosie and boo radley)
I have a dog. He's an 8 year old pug named Capone.

I also have a 5 year old cat named Kira. She's a mixture of grey and calico, mostly grey.

Then I have an outdoor pond with 12 goldfish named after the King Arthur legends: Arthur, Guenivere, Lancelot, Merlin, Morgana, Uther, Igraine, Tristan, Isolde, Galahad, Gawain, Percival.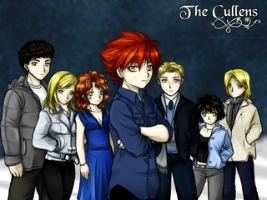 Images courtesy of: http://robbuz.deviantart.com/
Buying a Better Raincoat
Posts: 71
Joined: Sat Sep 06, 2008 2:00 pm
I have a cat called Andy.
My sister has two rats, which are really cute.
We have had different cats over the years but they all have one thing in common. They are polydactals. Seven toes on 2-4 of their paws. Our current one is totally neurotic. He talks all the time. It's like shut up already. it's not just a typical meow either. He has different tones and noises he puts in there too.

His name is Jerusalem. My husband named him after a gospel blue grass song "Can't cha hear Jerusalem moan?"
Jump Starting Bella's Truck
Posts: 105
Joined: Mon Aug 25, 2008 12:29 pm
Location: Dreaming of Edward
Bewitched- your cat sounds like two of my dogs. One because one of my dog's has double rear dew claws (it's a little weird- they just dangle there!) and the other because I know what you mean about the never shutting up thing! Just once I would like to hear the house quiet without some weird animal noise
"You're awfully small to be so hugely irritating."
— Edward
Buying a Better Raincoat
Posts: 57
Joined: Fri Sep 05, 2008 12:12 pm
Location: Michigan--Wishing I was on somewhere near Edward :)
I have a 2 yr old chocolate lab--Her name is Beretta. She is out baby--she is a momma's girl!
Christy
Jump Starting Bella's Truck
Posts: 186
Joined: Wed Aug 27, 2008 6:58 pm
Location: Trapped Inside A World All My Own
i have 3 dogs..Ginger, Mary-Kay and Roxy...and i also have one cat, Lynx...i named all of them because my family is too retarded to do it..but my brother did name Ginger...Mary and Roxy are Gingers puppies..she had a litter of 10!! yea, it was crazy...
I dont like Lynx all that much...she trips me when im going down the stairs...ALL THE TIME!!! all the time!!! geez...i hope she falls off the roof...
>.>
<.<
Credit:
http://www.lil-italiana.2ya.com
Lusting for Blood
Posts: 1387
Joined: Sat Aug 16, 2008 6:44 pm
Location: There...plotting Lynz's demise :D
I have 9 cats: Gizzie & Princess; Ollie & Freckle; Oddball & Gray; Charlie & Lola. A stray cat named Mama adopted us. She & her illegitimate unborn brood want to make my home theirs. All the kitties live outside. My husband built them 2 houses. They have heat lamps for cold weather and heated water bowls. They also prefer to eat dogfood. Crazy cats.

Squee! Thank you, Nena!
Finding Stuff in Billy's Trunk
Posts: 3503
Joined: Sat Aug 23, 2008 10:49 pm
Location: Wherever my books are
Contact:
I have a dog, named Nicki.
=)
Team Edward Bringing sexy back since 1901. I'm on the ListV2 Sammy Whammy
Team "Screw you freaks; I want Ben!"

...........

Randomness Resident


LOVE MY TWINNIES: Mary and Shel <3
Has Caught Sight of Edward
Posts: 1014
Joined: Tue Sep 09, 2008 10:56 pm
Location: Looking for Emmett in East Tennessee
I have a calico cat, his name is Bercutio...it's a mix between Mercutio and Benvolio from Romeo and Juliet
Avatar by allieb
Field Supervisor of EDC, Inc.
Team Edward-Knight in Shining Volvo
Team Rosalie-Every Rose has it's thorn
Cotton Candy Revolutionists~Jell-O Wars of 09'