Moderators: Bronze Haired Girl, una
Wandering Through Town
Posts: 27
Joined: Fri Aug 15, 2008 11:23 pm
Location: Everywhere USA
i would probably smell like jasmie and rasberries but i dont know
Just when you think things can't get any worse.....they do.
But....I've learned that life is like hour glass sand.
Sooner or later, everything hits rock bottom,
but all you have to do is be patient and wait
for something to turn everything around.
I've been using Burberry Weekend for as long as I've known myself and I think by now it's become part of my DNA
So I'd smell like Tangerine, Sape Greeness, Red Cyclamen, Blue Hyacinth, Wild Rose, Iris, Cedarwood, Musk (yeah I looked it up
)
"You give faith to the ones you love,but the people who really deserve it are the ones who come through even when you don't love them enough"."
Finding Stuff in Billy's Trunk
Posts: 3503
Joined: Sat Aug 23, 2008 10:49 pm
Location: Wherever my books are
Contact:
vanilla-watermelon-lily of the valley-baby powder-strawberry-chocolate
i don't know how that would all smell together, lol
Team Edward Bringing sexy back since 1901. I'm on the ListV2 Sammy Whammy
Team "Screw you freaks; I want Ben!"

...........

Randomness Resident


LOVE MY TWINNIES: Mary and Shel <3
Wandering Through Town
Posts: 39
Joined: Tue Sep 02, 2008 2:12 pm
Location: Omaha, Nebraska
Contact:
Probably wood smoke, green tea, cinnamon, clove, and a hint of rain/running water with calla lily. Rather incongruous, but I never said it was pleasant.
Well I'm allergic to floral scents. So based on the shampoos and stuff I normally use, I'd smell like vanilla-apple-cinnamon-strawberry-rasberry-blueberry.

Edit: I think Mint would be a nice refreshing scent as well so I would add that to my list.
Last edited by
Destani
on Fri Sep 12, 2008 9:18 am, edited 1 time in total.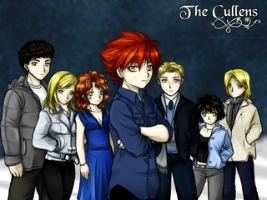 Images courtesy of: http://robbuz.deviantart.com/
i think it would be cinnamon and a hint of vanilla. i dont know why it just think of it when i read the question
I would surely smell of green apple. That's because I use only green apple shampoo, conditioner, bath foam and body lotion...probably this should go in the OCD thread
Learning to Love Green
Posts: 78
Joined: Thu Aug 21, 2008 8:28 am
Location: Olympic National Forest
I like fragrances that are a bit spicy and floral, so I think that my smell would be a combination of: mimosa, jasmine, tuberose, cinnamon, sandalwood, and patchouli.
If I had to pick one of the above, I would say jasmine.
Jump Starting Bella's Truck
Posts: 145
Joined: Sun Aug 31, 2008 6:20 am
Location: Montreal, Canada
Cinnamon would be mine.....
Learning to Love Green
Posts: 78
Joined: Fri Sep 12, 2008 1:46 pm
Location: My own little town of Forks
Contact:
My scent would probably be Strawberries and Cream with a hint of vanilla. I am almost always using either vanilla or strawberries and cream, and I mixed alittle bit of it together and it actually smells really good