Welcome. And don't worry, I didn't sleep for 2 days, so I could read Breaking Dawn,LOL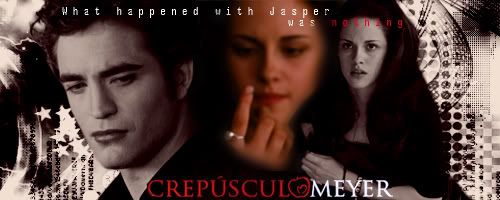 ---
Oh yes, Major freak over here. =PPP

But not the weird kind. lol Just the insanely BEDWARD lover kind. =PPPP
My twinnie and my fav twi guy=meteor
Randomness Reggie! BACK in...dark?
Emmett's Demolition Crew:Trainee
Team Edmartt!
<<for the clueless, edward+emmett
---
Banging Out Dents with Tyler
Posts: 368
Joined: Thu Aug 21, 2008 2:14 pm
Location: Avoiding the bad vamps in Texas
Contact:
MindReader wrote:@alicelauren...lol wow ic. Would you even wanna go to forks if it wasnt for twilight

lol
yeah. well, somewhere like it. at least somewhere cold.
i've seen snow once. and that was like nothing.
---
Teaching Eric Social Graces
Posts: 206
Joined: Fri Aug 22, 2008 12:32 am
Location: Southern California
Contact:
AliceLauren Welcome to the Lex.
I don't think you are strange at all being up all night reading and on the Lex. That is my quiet time when no one in the house is up to bug me so I understand completely. If you have any questions or need help just ask because there are a lot of people on here that are very nice and willing to help.
Kat
Banner thanks to Ouisa!
---
Settled in Forks
Posts: 24
Joined: Thu Aug 21, 2008 9:40 pm
lol dead in a daydream thanks for the quote, exactly whut i was looking for
also glad to know that everybody loves twilight enuf to stay up that late
aaaanndd it snows for like 3 months straight over here, so much that we skip school sometimes
and then it snows so much more...its just annoying lol
Mom dropped him alot when he was a baby. Leah told me.
On his head, apparently.
He used to gnaw on the crib bars, to.
Lead poisoning?
Looks like it, Leah thought.
Seth snorted. Funny. Why don't you two shut up and sleep?
LOL xD
---
Banging Out Dents with Tyler
Posts: 368
Joined: Thu Aug 21, 2008 2:14 pm
Location: Avoiding the bad vamps in Texas
Contact:
Aw dang it. I wish it snowed here. I wouldn't mind skipping school either
ha
---
Hanging Up on Jessica
Posts: 674
Joined: Wed Aug 13, 2008 10:17 pm
Welcome, and I don't mean to sound like a wannabe mod but.. usually three pages on a welcome thread is the limit.

Enjoy the lex!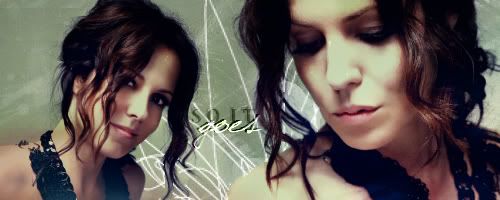 ---
Welcome to the Twilight Lexicon. Be sure to read the stickys at the top of the threads for important information.
Also make sure to check out the Newcomer's guide for easy site navigation.

This thread is for introduction only. AliceLauren and Mind Reader please take your conversation to private messages. IM style conversations are not allowed in our forums.
~Nena
Moderator
---
Lusting for Blood
Posts: 1382
Joined: Wed Aug 20, 2008 9:34 pm
Location: Running with vampires
Contact:
Hey! Welcome to the Lexicon! I'm Ren, and if you need anything or have any questions, or just want to chat in general, feel free to send me a PM. I'm friendly!

Also, make sure you glance over Alcyone's Newcomer's Guide to the Lexicon 2.0 (The shinier, spiffier version) for rules and regulations, if you haven't already.


See you around~

<3 Ren
She used to be human, and then it changed. How did she die? Why did she meet James? One couple's unlikely love story is another person's untimely tragedy. Ashes
Ren's newest story!
---
Jump Starting Bella's Truck
Posts: 178
Joined: Sun Aug 24, 2008 2:09 am
Location: Contemplating giving Edward baking lessons. (Austin, TX)
Contact:
haha... I read all the books from like Midnight til 6 in the morning. Sad, I know, but I just got sucked in!!! I couldn't put them down!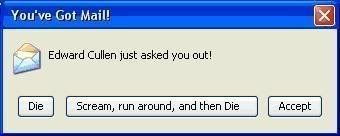 Read
*Jasper Lurks*
*My FanFiction*
& My
LJ
.
Team Edward all the way!
I. MET. ROB. PATTINSON.
---