Jump Starting Bella's Truck
Posts: 110
Joined: Wed Mar 18, 2009 12:03 am
Location: The "Twilight" Zone
Hello! Welcome to the Lex!
I hope you enjoy it here
I'm from Wisconsin too!
See you around,
~*~Emily~*~
<><
~TEAM EDWARD~
Team Cullen-Giving the word Vampire a whole new meaning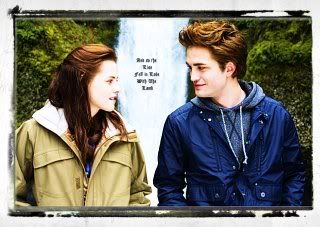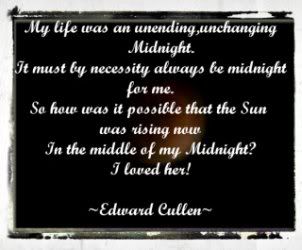 Protector of Jacob's Honor
Posts: 4087
Joined: Mon Sep 22, 2008 2:09 pm
Location: hoping 2012 is better than 2011 was
Hi. I'm Jen
Welcome to the lex, it's a fun place to be!
See you around the boards
And if you've never been, I highly suggest visiting Stephenie Meyer's
webiste
. She has a lot of fun stuff there like FAQ's for all the books & some outtakes that didn't make it into the final draft of the books.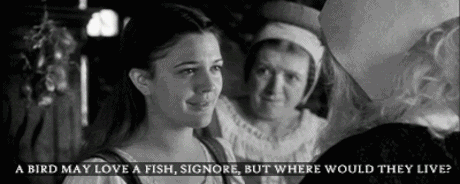 "She doesn't know what she wants" - Jacob Black "Yeah she does!" - Rob Pattinson
I'm A Proud Twilight Guy
Posts: 3825
Joined: Sun Feb 08, 2009 2:05 pm
Location: Chugging the postahol. On MSN, most likely. Tieing Sarah in thunderball.
My blessed eMom!
Well, you're like the best eMom ever, and I know I can talk to you about stuff.


~Your eSon, Derek
Al Puccini of the Mafia,
Santiago of Volturi,
Major Peter of JCA,
EDC Bulldozer Trainee,
APPC Host
Jenni - TwiGirl
Frozen in Time
Posts: 1736
Joined: Thu Sep 04, 2008 9:53 pm
Location: sitting on a bench in the rain
Contact:
Hey! Welcome to the Lex!

~ Cowards aren't the only ones who die a thousand deaths, sometimes heroes do too
~ I take Banner/Avatar Requests, send a PM
Hiding Lauren's Hair Dye
Posts: 423
Joined: Sun Apr 19, 2009 7:20 pm
hey!! welcome to lex!!!! hope to see you around!
Betting on Alice.
Eating Spaghetti with Billy
Posts: 3347
Joined: Fri Jul 31, 2009 11:17 am
Location: Kicking butt with her awesome Ninjasissyvildypuceowner!
Contact:
Hey, Kayla!

Oh, could I be your eKid too. Please.
-Hanni
(banner=not mine.)
Settled in Forks
Posts: 7
Joined: Tue Jul 27, 2010 12:34 pm
Hi. I'm new here 2. I'm probably the only boy on this site.
But anyway, welcome to the twilight lex!!!
[ Post made via Mobile Device ]
hello.. i am Mark from USA ,Ak,Anchorage,nice to meet you,im just new here..i'll hope that i can have new friend here..
Settled in Forks
Posts: 1
Joined: Fri Jun 24, 2011 4:37 am
Hello everyone!
I am new member and im gald join this
Thank you
Hiya! I am also a newbie here.. looking forward to watch the last twilight! can't wait! geeeshh