Welcome back Nena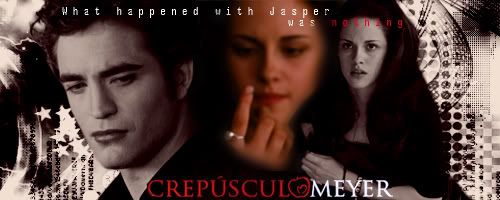 Fishing with Charlie
Posts: 834
Joined: Tue Sep 02, 2008 3:41 am
Location: At a Fashion Show with Alice
Contact:
Hola, nice to meet you! See you around the forum, feel free to pm!

Have a good day!
Team Edward. Team Jasper. Team Alice. Team Emmett
Because they are just plain sexy.
Trainee at Emmett's Demolition Crew
Member of Donating Blood To Jasper&Co.
Nena, welcome back to the Lex! XD
by myhopesaresohigh @ vesperarium
Playing the Stockmarket with Alice
Posts: 2459
Joined: Thu Aug 21, 2008 6:53 pm
Location: Fighting all of those rebel Cylons...
Hi! Welcome to the Lexicon, I'm Venecettia.
Part of Carlisle's Clan
Posts: 2125
Joined: Mon Aug 25, 2008 9:18 pm
Location: gnawing on Edward's earlobe
I just have to say, Nena, you rock! You do a great job here, helping the Lexicon run so smoothly. Thanks for all you do!

Sometimes I am not satisfied with my signature!
Settled in Forks
Posts: 17
Joined: Sun Oct 19, 2008 11:07 am
Hey
welcome to the Lex
Hope to see you around the boards

Feel free to PM anytime


Mallory
heeeyyyy. im new here too. nice tooo meet u peepzz.
Omeyy. XD
Settled in Forks
Posts: 8
Joined: Wed Nov 19, 2008 4:38 pm
Hey I love volleyball as well that is so cool!
Jump Starting Bella's Truck
Posts: 195
Joined: Wed Nov 19, 2008 12:51 pm
Hi just dropping by to see hello I'm new... *coughs*
Nena wrote:she mentioned "vampires" and that was the second and final deal breaker, I have never been a vamp lover (until now, that is).
Whoa, whoa, whoa... WHAT?!
Okay. I'm sorry, I don't want to sound like a jerk but calling them "vamps" is disrespectful, for one. And saying that you're a "vamp lover" after reading Twilight is even more so. See... Twilight has romanticized a legend that has never been anywhere close to that. Vampires in their true nature are seductive, dark, and mysterious. They certainly don't fall in love with humans, nor do they "dazzle."
Please don't take this as me dissing the book, it's not. It is me simply stating that as a true lover of the legend that has instilled terror into so many people, it insults me that one could sound so ignorant.