Ugh. It was a freaking Mensa puzzle re-registering.
Glad the boards are back.
At midday we stumble as if it were twilight; among the strong, we are like the dead. Isaiah 59:10
Then Jonathan said to David: "Tomorrow is the New Moon festival." 1 Samuel 20:18
Its kingdom fell into sudden eclipse. Rev. 16:10
---
Lusting for Blood
Posts: 1382
Joined: Wed Aug 20, 2008 9:34 pm
Location: Running with vampires
Contact:
Hey! Welcome back to the Lexicon! I'm Ren, and if you need anything or have any questions, or just want to chat in general, feel free to send me a PM. I'm friendly!

See you around~

<3 Ren
She used to be human, and then it changed. How did she die? Why did she meet James? One couple's unlikely love story is another person's untimely tragedy. Ashes
Ren's newest story!
---
Wrestling With Emmett
Posts: 2528
Joined: Thu Aug 21, 2008 12:14 am
Location: Shopping with Alice ~ Wilmington, NC
Contact:
Welcome back to the Lex! I'm glad to see some familiar people are here. See you around the forums, if you wanna chat send me a message!
~Elizabeth (formerly known as RealGirls Like Fast Cars)
Team Edward:
Because...
pianists are good with their fingers
some of the hottest kisses are closed mouth
once you go vamp you never go back
---
Welcome back swan.
i'm Dark...you can call me Dark. lol...feel free to PM me if you want to chit chat...I'm a nice gal. =]]


-Dark
My twinnie and my fav twi guy=meteor
Randomness Reggie! BACK in...dark?
Emmett's Demolition Crew:Trainee
Team Edmartt!
<<for the clueless, edward+emmett
---
Teaching Eric Social Graces
Posts: 291
Joined: Thu Aug 14, 2008 10:28 pm
Contact:
welcome to the new Lex! it's a great place for the addicted to feel "normal" well as normal as we'll ever get. My name is Leah. PM me anytime
hope to see you around the boards.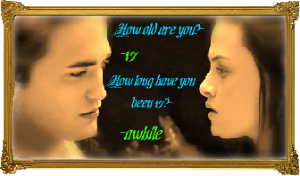 ---
Banging Out Dents with Tyler
Posts: 353
Joined: Fri Aug 22, 2008 10:55 pm
Location: In Texas with Edward
Contact:
Hi and welcome back to the Lexicon! My name is Alyssa. Feel free to PM anytime. See you around the boards!
---
Playing the Stockmarket with Alice
Posts: 2459
Joined: Thu Aug 21, 2008 6:53 pm
Location: Fighting all of those rebel Cylons...
Hi! Welcome to the Lexicon, I'm Venecettia.
---